My friend Margi and I first heard this song while watching
Driving Lessons.
It is a fascinating mix of salsa and celtic music. Who would have thought to combine these two genres? Who ever did is an absolute genius.
The song, as well as the album, seems to be grounded in salsa with a Celtic flare. It is one of those songs that make you say "Of Course!". How did I not see the connection before? It truly gets me moving. I am sitting here, in the cyber café at seminary, moving to the beat of the song as I write this blog at 2 am instead of doing my homework. I am in love with the sound. Fiddles and salsa, how can it get better than that?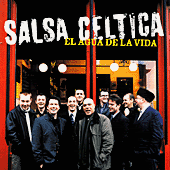 I could go on about uniting in music, working together, creating new beauty but instead I will just leave the music to speak for itself. The rest of their album has a much stronger commitment to salsa/Latin music, though it is still good. As far as albums go I would recommend the soundtrack to the movie Driving Lessons-as well as the movie.

CLICK HERE
to have a listen. I wasn't able to find a decent clip anywhere online, but it will give you a taste....perhaps enough to want to purchase the album!