It'd feel weirder and more narcissistic posting a song I wrote here if I weren't so friggin jazzed about the experience that inspired it and eager to tell the story...and so thankful that the song got finished at all, much less in a matter of hours. Plus it's exactly a week old tonight. So here's me brazenly posting my own music as my song for the day.
Although I've loved campfires and fire in general for a long time, I became freakishly enamored after I went to Wintercount this year. It's a primitive survival skills convention that's held every year in Maricopa, Arizona. For 5 days, a bunch of wilderness hippies travel from all over to commune and generally hobnob with other wilderness hippies while teaching and learning things like basket weaving, animal tracking, deer skin tanning, goard canteen making, telling time by the stars, healing snake bites and sunburn with herbs and plants in the area, and of course making fire without matches.
This last thing had me entranced the whole time I was there. Fire starting wasn't so much a class as an all day, every day tarp-shaded spot with piles of tinder and hearth boards, hand drills, bow drills and a few sagely old pros standing by to help. Cuz a lot of people can try all week without getting an ember. I can't fully describe to anyone just how gratifying it was to actually get a flame started from a hand drill fire. But everyone's reaction to their first fire had some element of joyful pride in it. So it was as much fun to watch as to attempt.
Besides learning to make them, it was great to actually be around campfires for such a long period of time. It seems very telling to me that even after stoves and central heating have taken over the original jobs of a fireplace, many Western homes still have them just for the aesthetic value...the magic of it. So being out in the desert where these novel, magical things are the source of our warmth and our light was just friggin' awesome and worth repeating as much as possible. It felt like those conversations I have with members of my family when I realize just how cool these people are that taking them for granted had made me forget. I'd like to think that the sacredness of fire is much more of a "duh" kind of thing for cultures who still use open fires to cook and light and heat their homes. So I won't claim to be breaking any new ground here. It's just nice to remember.
And I only realized after writing the song that I had pictures from Wintercount to go along with each verse - so I'm posting those too.
Campfire Song
The kindling's piled, the tinder dry.
We're gonna build a fire tonight
To cook our food and warm our hands
To singe our songs and light our dance.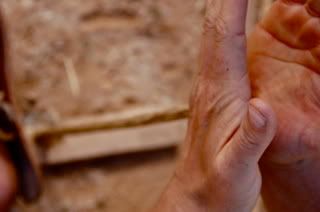 We're kneeling down and staring hard.
We're breathing life into a spark.
A tiny flower starts to bloom
So we step back and give it room.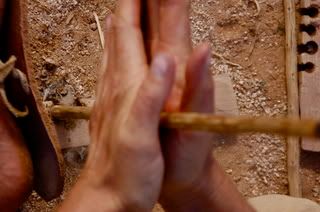 It's lovely what a fire can do.
It's lovely what a fire can do.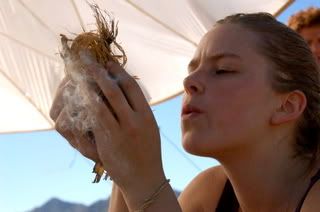 The smell of dinner fills the air.
Our tiny band of cooking gear
Is huddled close next to the flames.
The smokey smell will cling to clothes for days.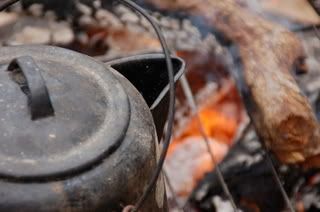 It's lovely what a fire can do.
It's lovely what a fire can do.
And so we dance around the blaze
And scare the dread of dark away.
Another log, another song.
The fire snaps and claps along.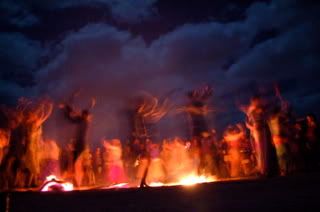 It's lovely what a fire can do.
It's lovely what a fire can do. (x2)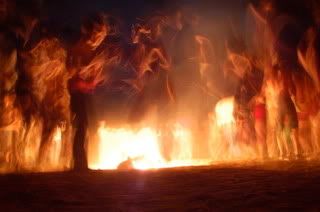 And so we gather round the glow.
And slowly, stories start to grow.
And slowly too we share our hearts
With company we barely know.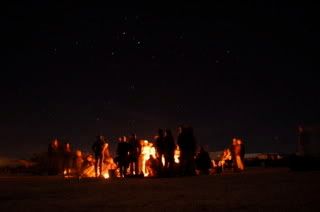 It's lovely what a fire can do.
It's lovely what a fire can do.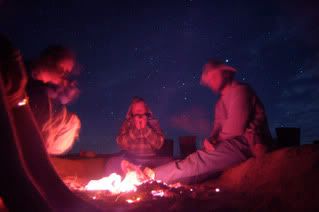 The stars are humming overhead
As we lay out our camping beds.
Our dying fire, red and deep
Is whispering us all to sleep.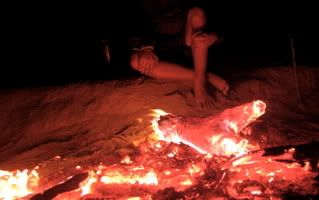 It's lovely what a fire can do.
It's lovely what a fire can do. (x2)